Leading developer and supplier of
Pureno Clean
We developed our Pureno Clean series for professional users in the manufacturing industry. Parts and components used in the production of finished goods need to be thoroughly degreased and cleaned to be completely ready for further processing.
Our Pureno Clean series also includes a complete, effective assortment of cleaning and care products for floors and surfaces which require thorough cleaning and removal of accumulated dirt and coatings.
The Pureno Clean series for cleaning and degreasing of all surfaces. The products effectively dissolve and remove vegetable oils, animal fats and mineral oils. They are ideal for removing soot, oil and fat, as well as coolant and lubricant residue.

The series also includes our renowned CITRUS Rens, which is ideal for dissolving and removing graffiti, glue residue, resin, tar, fat, wax, oil, printing ink, marker-pen marks, labels, etc. It is used to clean and degrease all surfaces, and dissolves and removes vegetable oils, animal fats and mineral oils. It is excellent for removing soot, oil and fat, as well as residue from coolants and lubricants.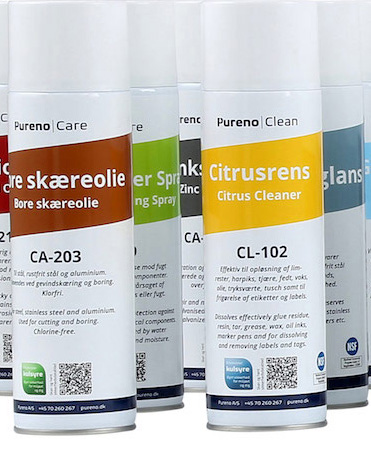 Pureno Care
These products make up our range of lubricants and slip agents, as well as our anti-corrosive, welding, leak-detecting, engine-cleaning, metallic gloss, protection and polishing solutions.
The Pureno Care series focuses on lubricants and oils, rust protection, welding agents, leak-detection, slip agents, deburring agents and polishes, all of which are used for countless tasks in the manufacturing industry.
Our anti-rust products displace water and moisture and leave a visible, protective, soft, light-coloured film that does not harden up during the drying process. In addition to ordinary rust protection, our anti-rust products inhibit the corrosion of stainless steel, aluminium and lightweight metals.
Pureno A/S is Denmark's leading supplier of specialised cleaning and maintenance solutions.
We are an innovative, service-minded supplier of Clean & Care products to the most quality-conscious industrial and manufacturing companies in Denmark and other Nordic countries.
We give top priority to occupational health and safety. This is also why we use carbon dioxide as the propellant in all our aerosols.
Our Clean & Care products are available in jugs, drums, pallet tanks and aerosol cans. We provide flexible solutions, tailored to the individual wishes of our customers in terms of consignment volume and scope.
If you have any questions or if you would like to know what we have to offer, please feel welcome to e-mail us at mail@pureno.dk.